If you like something a little outside the box and away from the tastes of other hotels, then take a seat at our red gum bar. In addition to a huge selection of local bottled beers, the Hermitage offers a quality selection of bottled imported beers and ….
Always something new to try ON TAP!
That's right, our locals and visitors enjoy old favourites, Carlton Draught, Melbourne Bitter and Great Northern Super Crisp by the pint, pot or glass, as well as a regularly-updated choice of Australian boutique products.
Flowing from the font this winter we have the Forrest Brewing company Block Splitter Imperial Stout and Forrest Brewing Co Red Ale, brewed in Forrest Otway Ranges, right here in Victoria.
Blocksplitter also known as a splitting maul, block buster or "godevil". A heavy two handed axe used for cutting a large piece of wood along its grain. One side sledgehammer, the other a blunt axe. The Forrest Imperial Stout is one the Russians Tzars would have enjoyed over the long cold winter, no need to cut wood to keep warm with this one on hand. A sipping beer of robust dark malts, solid body and high alcohol. ABV 9%
Wine Not?
If a glass or bottle of a quality vino appeals more than a dark or golden ale, the Hermitage's selection of white, red and sparkling wines has something for everyone.
Hand-picked to ensure quality, while maintaining prices to suit every budget, our wine list is regularly updated to
provide new experiences for discerning palates.
In the red cellar we have:
Arrogant Clean Skin – Graham Stevens Wines, McLaren Vale Shiraz 2011 – Big plum flavours that SA's southern vales are famous for.
Bellevue Estate – McLaren Vale Shiraz 2012 – Multi award-winning single vineyard Shiraz.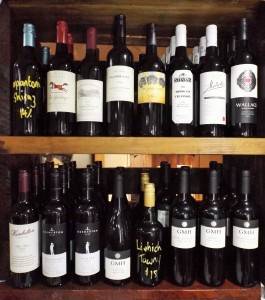 Wallace – Ben Glaetzer – Barossa Valley Shiraz/Grenache featuring silky soft tannins.
Rudderless – McLaren Vale Shiraz 2012 – Big, bold, premium Shiraz from Sellicks Hill, where the hills meet the sea. Made by Doug Govan.
The Homestead – Burge family – Barossa Valley Cabernet Sauvignon 2012 – Only released by Rick Burge once every seven to 10 years, when it meets exceptional levels of quality.
IN THE CELLAR …
Come in and say hello
With all of our products at budget-conscious prices and a product for every taste, the Hermitage is the perfect place to stop for a cold, after-work 'frothy', your girls' night out or post-victory sporting celebration.
On Friday nights, between 5pm and 6pm, join us for happy hour, when our prices are even better and chef whips up some terrific complementary bar snacks.